Our flexible platform provides everything you need to deliver a world class user experience to your students while running your programs at peak efficiency
Course Finder and Shopping Cart
Students can search available courses by subject, certificate/program, start or end dates, location, meeting time, etc. enabling them to quickly hone in on courses that meet their needs. They can register immediately or save several possible courses and come back later to finalize their choice. Full shopping cart functionality makes it easy to complete the registration process including purchase of supplemental items like course materials or parking.
Rich, intuitive course search
Shopping cart with PCI compliant payments
Integration with your student information system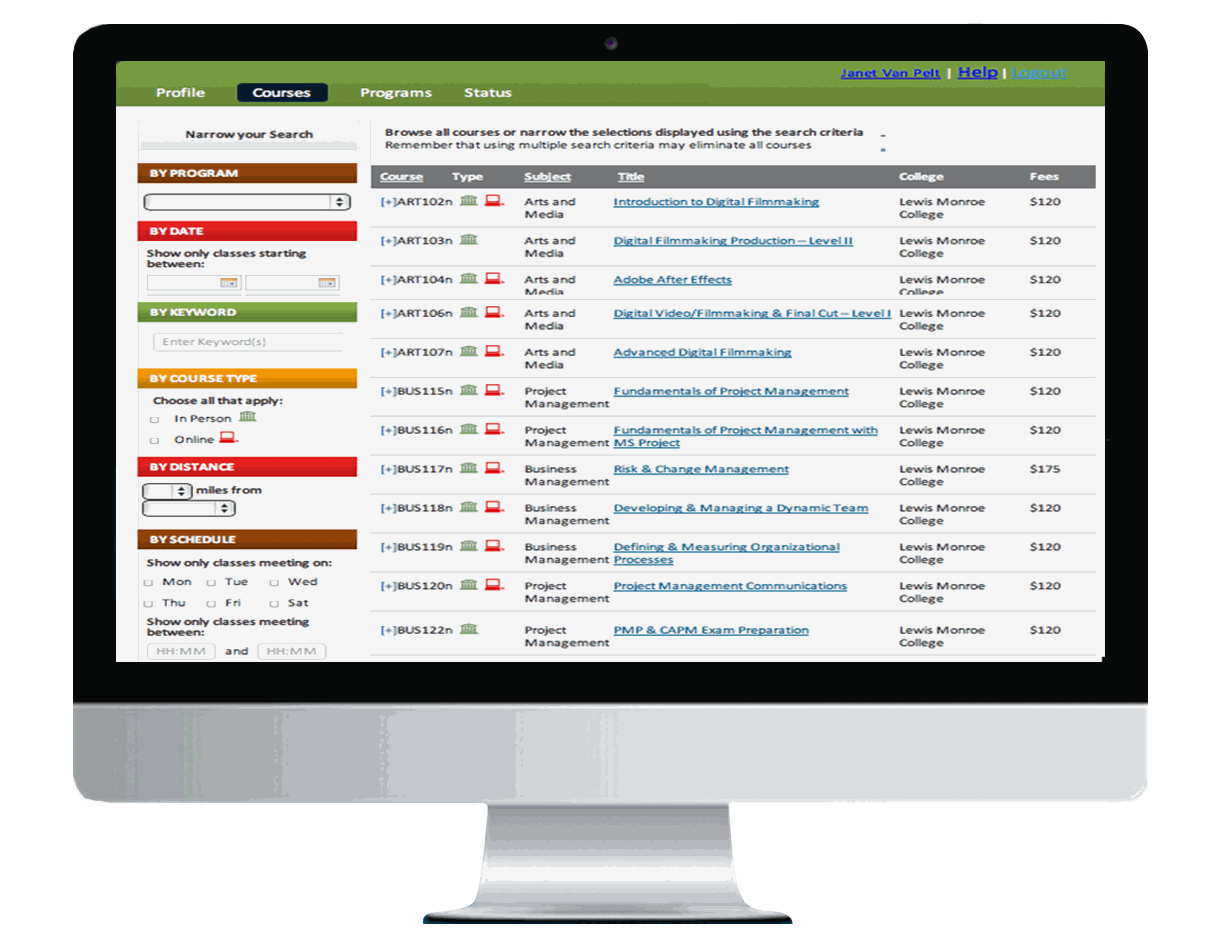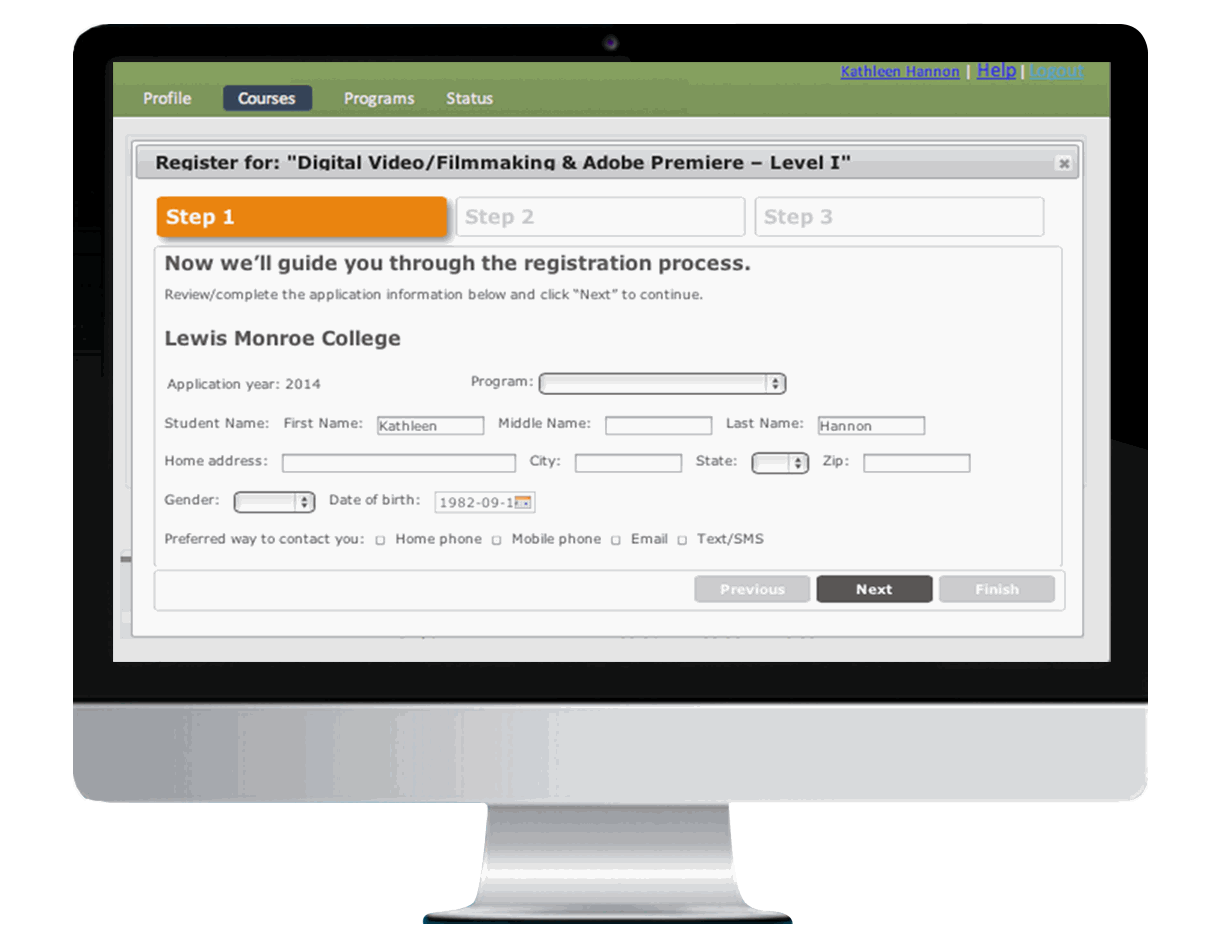 Guided Application and Registration
Students receive dynamic step-by-step guidance as they apply and register; steps are determined in real time based on college policy and prior responses
Intuitive wizard-style user interface
Program specific registration wizard
Reminders & alerts for late or missing items
Student Profile
Each student's complete history is easily accessible online 24x7. College personnel can respond to inquiries quickly and efficiently, and students can track their progress and manage their interaction with the school.
Complete student history
Integrated inquiry response
Empowers students to manage their progress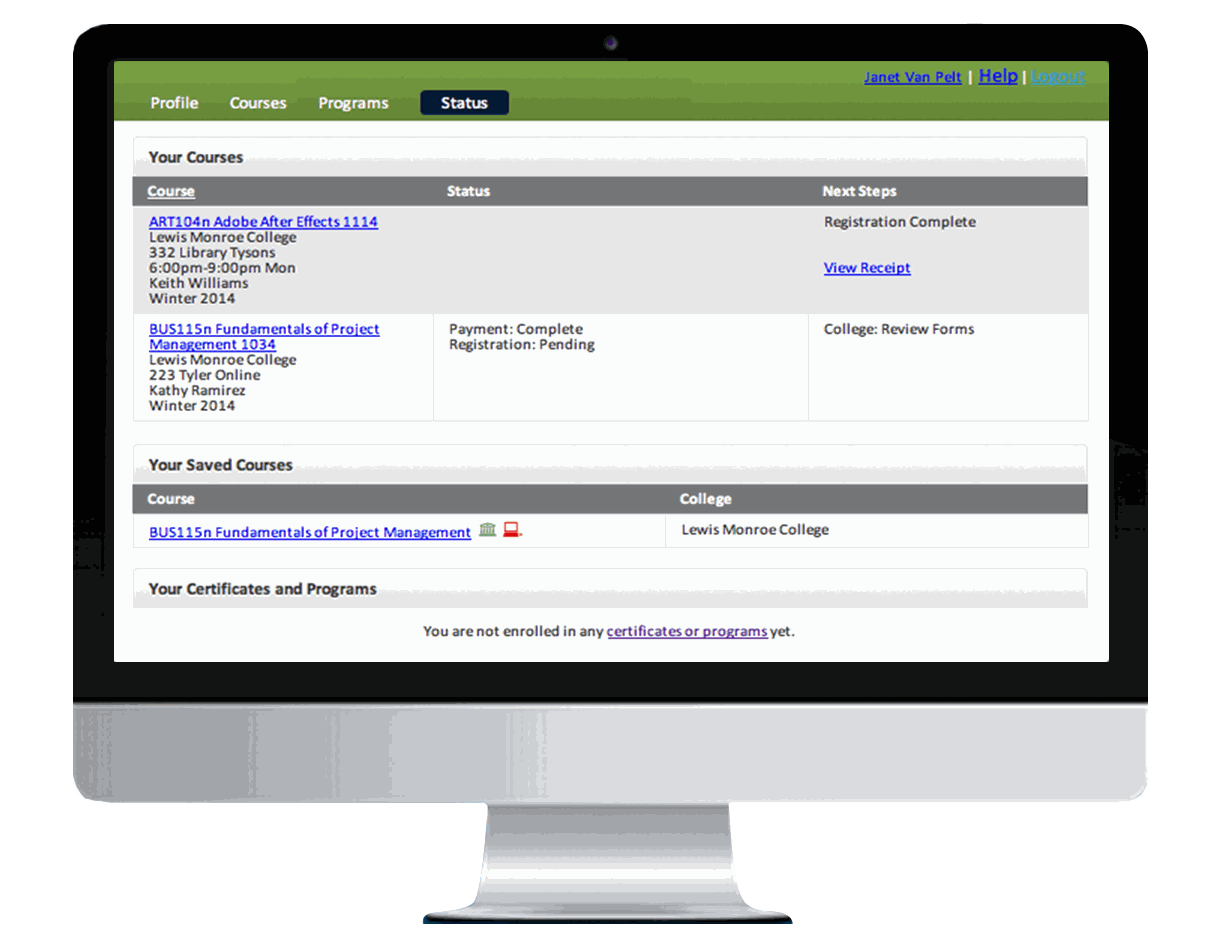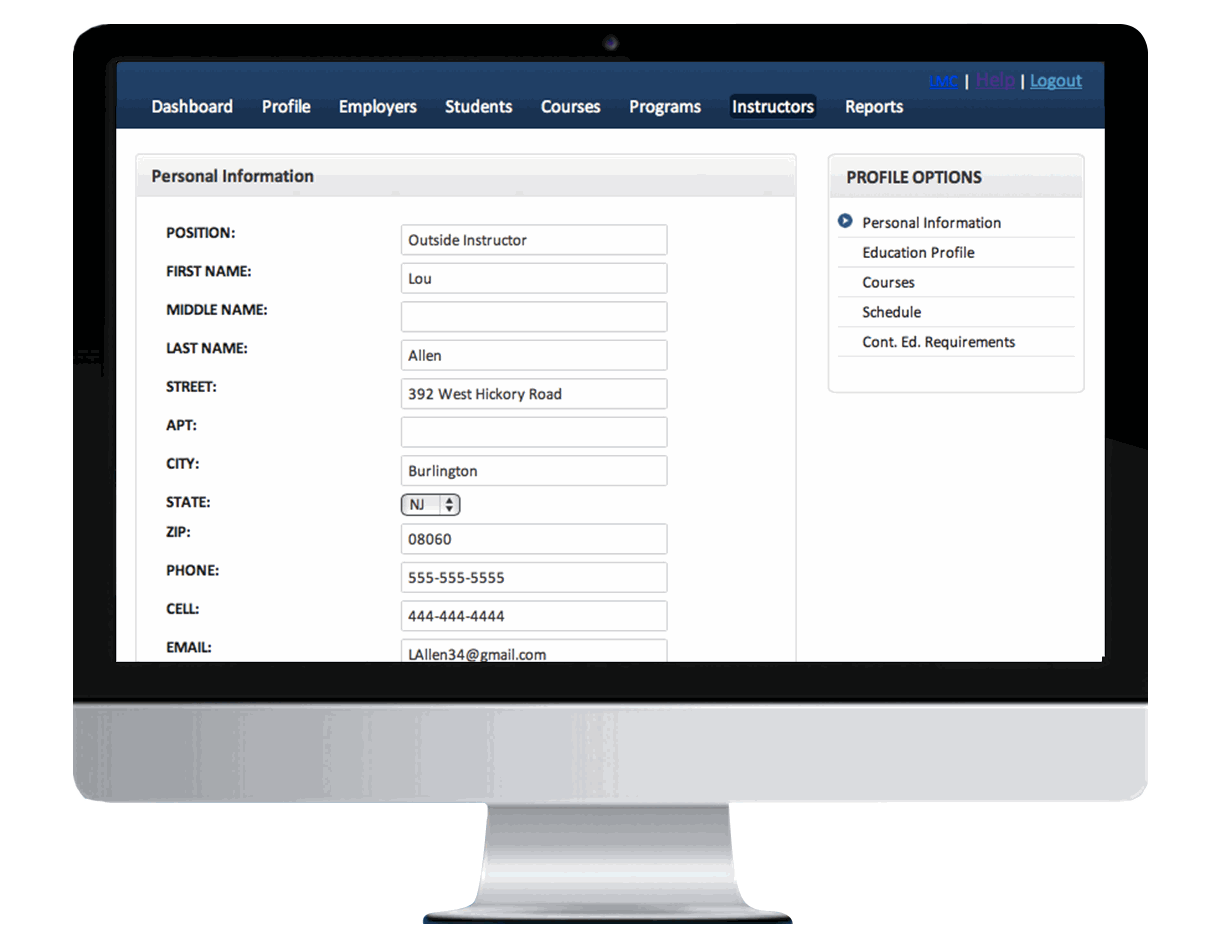 Instructor Management
CourseMosaic centralizes instructor information for instant access. The system streamlines the process of adding new instructors, making it possible to grow without adding staff.
Add new instructors
Manage credentials
Course demand based capacity planning
Course and Certificate/Program Creation
CourseMosaic provides extensive tools for creating courses/sections and setting up certificates and programs. The system supports open entry, open exit, specified start/end date as well as terms. Synchronizing start/end dates with the college's terms allows SIS integration of any course type even for student systems that support only terms.
Integrated course catalog management
Supports broad range of course types
Works stand-alone or with SIS data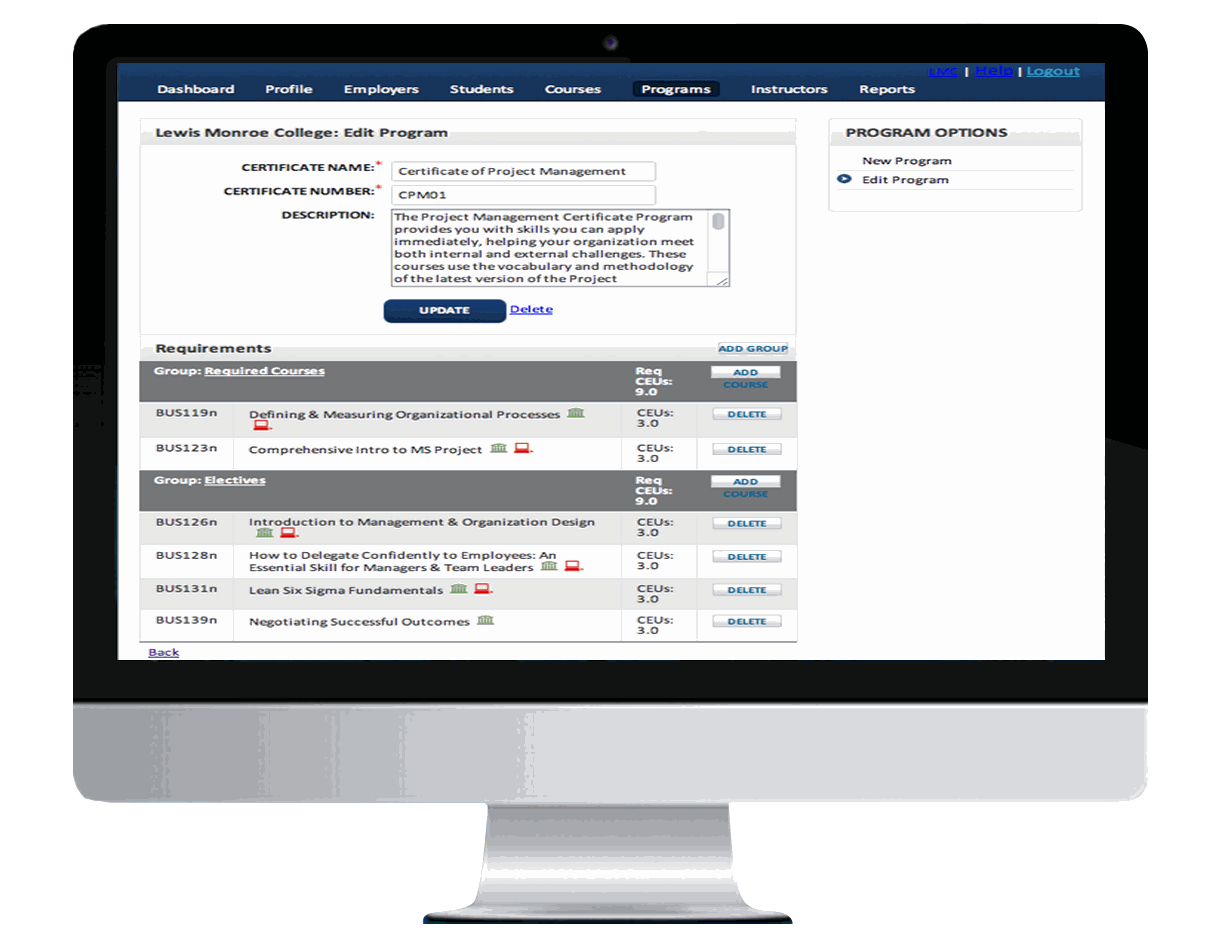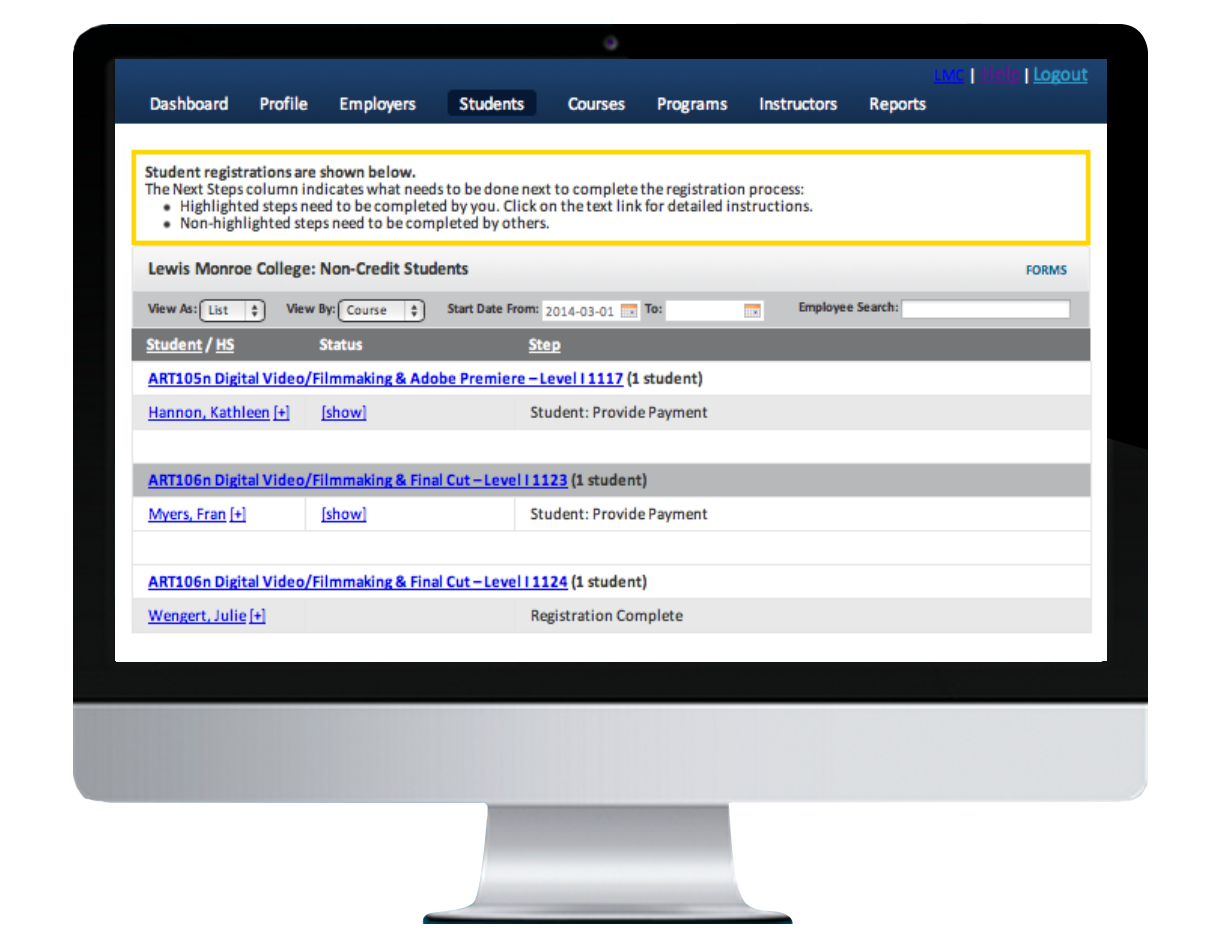 Course Profitability Analysis
Completed and pending registrations are provided for every section with multiple sort options. Track registrations in real time and identify sections which will fail to meet minimum enrollment levels so you can take corrective actions.
Real-time course registration tracking
Minimum enrollment threshholds
Historic comparisons
Employer Portal
Offer key employer partners an employer portal, allowing them to quickly identify action items on their part, create custom training, purchase seats for employees via direct payment, track progress by employee, and take advantage of volume discounts or custom pricing. The college can also coordinate custom or contract training with the employer via the portal.
Complete suite of self-service tools for employers
Multiple sponsoring/purchasing options
Strengthens employer relationships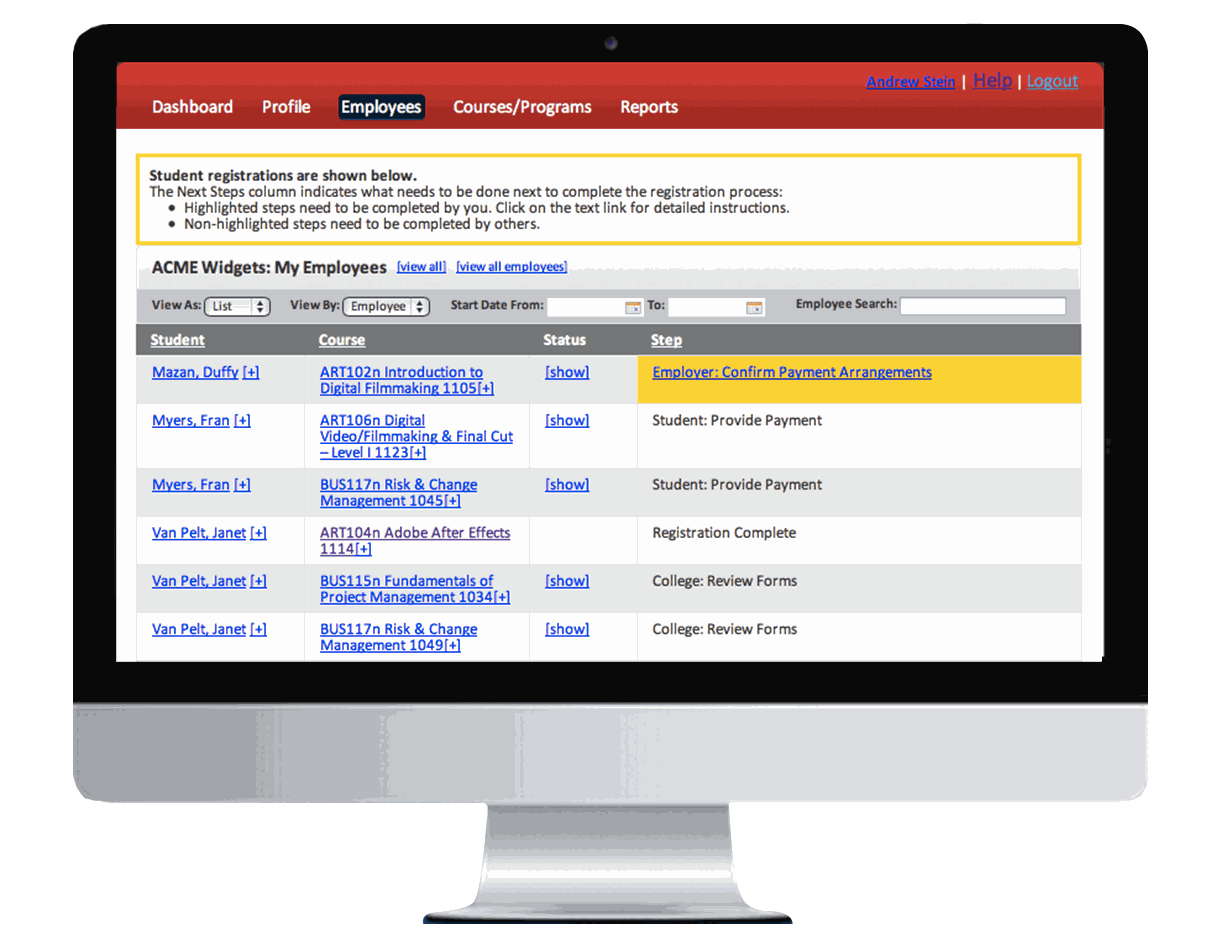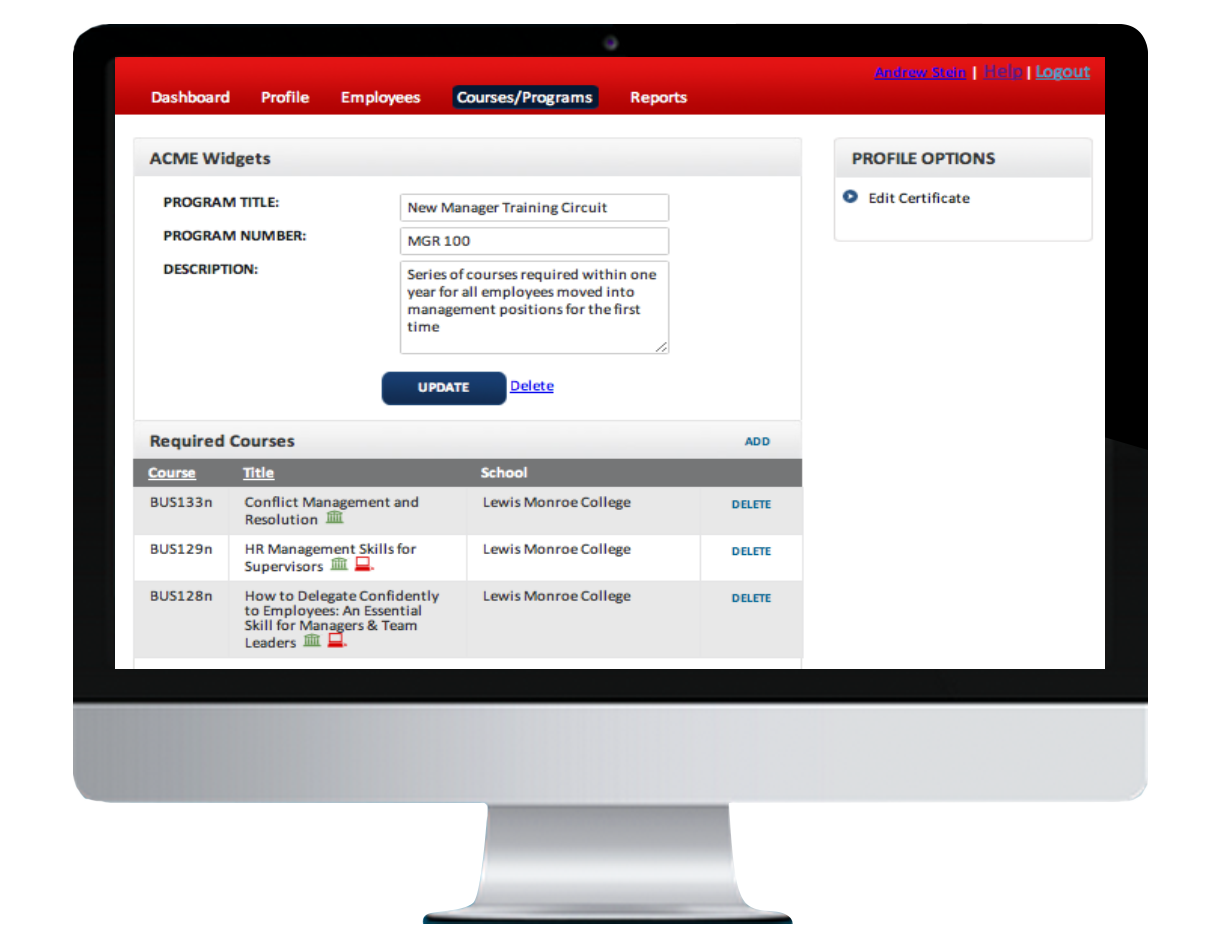 Custom Programs and Contract Training
Employers can create custom programs from courses offered by the college, purchase seats in these courses in advance, and track progress by employee. For contract training, the college can create courses or programs visible only to employees, allowing an ideal combination of full CourseMosaic functionality (online registration, bulk registration, reminders and alerts, flexible payment) and complete customization.
Allow employers to define custom programs
Supports bulk purchase and prepayment
Define and track employee cohorts
Leverage Existing Web & Print Presence
CourseMosaic leverages your existing capabilities in both web and print format. Add a link to existing web-based course descriptions or add support for QR codes in print catalogs. CourseMosaic's responsive design supports desktop/laptop, tablets and mobile devices.
Add instant registration links to web presence
Add QR codes to print catalogs
Support for web browser, tablet and mobile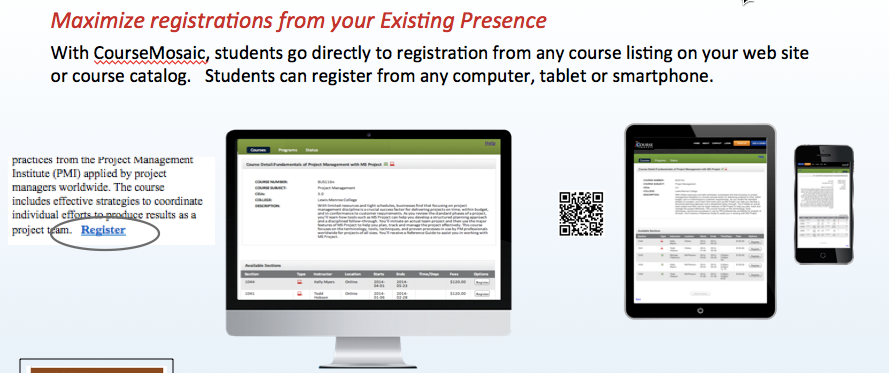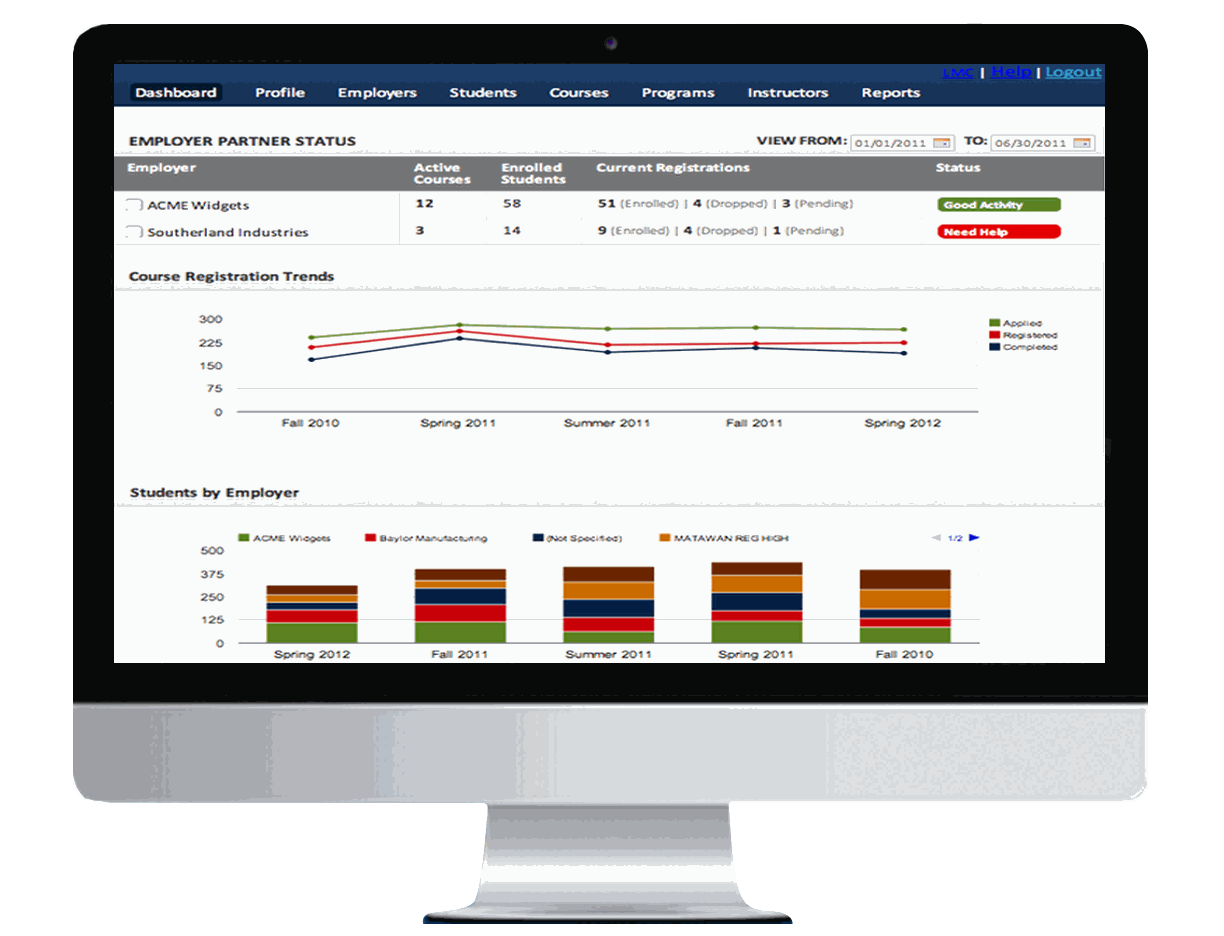 Integrated Reporting & Analytics
Since CourseMosaic stores all program data, it can generate reports and dashboards on any aspect of your program. Justify budget requests, identify trends and opportunities to grow your program with the confidence that comes from data driven decision-making.
CourseMosaic also provides reports and dashboards for employer-driven activity. Providing employer partners with data-driven evidence of value help solidify relationships and increase utilization and enrollment.
Utilization patterns
Support budget requests with demand data
Identify growth opportunities